Lots of rumours about my favourite football player. Klaas-Jan Huntelaar has, allegedly, been spotted at a gay club in Amsterdam's Reguliersdwarsstraat.
Three different, independent sources have told me this. I've been told he's a regular in one particular place. He is, I've been told, at the top of the list of players who should come out.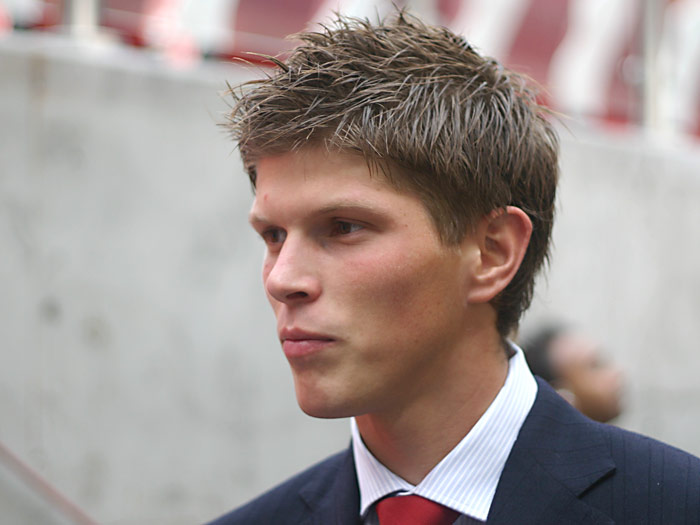 Much as I want him to be one of us, I don't buy it. According to much of the gay community, everyone's closeted, in denial or at least bisexual with a preference to men. It's an obsession to some to link celebrities to homosexuality.
And it just doesn't make sense. Football is probably the hardest place for a gay guy to survive, I'll acknowledge that, and to my knowledge only one active player has ever come out, I think in England. It ended in suicide.
So unless you're brilliant (which Klaas-Jan in my admittedly biased opinion is) and too good to be ostracised, coming out in that world is no option. Unless a group of players from different teams does it simultaneously, I guess. The player would be fodder for rival teams' cat calls, and arch rivals Feyenoord Rotterdam have some vicious fans.
There must be gay professional players out there, and there are lots of rumours like this one as a result. The hotshots running the league are superficially supportive and tolerant of homosexuality, but trainers, players and fans often are not. Former Ajax coach Ronald Koeman even went on TV a few years ago to deny rumours about two unspecified players. Still, I have a feeling a star wouldn't suffer at the hands of his team's own supporters. If and when homosexuality and football are no longer abstract concepts or subjects of rumour, but have names and faces attached to them, sentiments could well change.
In the mean time, the closet will be the only place for players to survive. I've heard stories of Italian giants AC Milan's closet program. Allegedly, they're well experienced with this problem and take care of everything: a girlfriend, secret visits to clubs, houses etc. Much as it is despicable, it is a very pragmatic way of dealing with one of life's realities whilst keeping the player active and on your payroll.
So if you're a closeted football player, a star, a celebrity in your own right and a sometime member of the national team (move over, Van Nistelrooij!), I don't think you'd visit gay bars in your own damn town. But then again, I don't know what it's like to be famous and closeted.
*By the way, even though we screwed up in the run up to the Champions League, had a hard UEFA Cup match in Zagreb (0-1), are plagued by injuries and barely managed to win for the National Cup against an amateur team in extra time (1-2, shameful!), we're back at the top of the league, partly thanks to Klaas-Jan's classy touch. It will be a tough season, because there's just no way to replace midfielder Wesley Sneijder, who now does his brilliant stuff for Real Madrid.